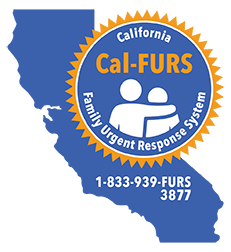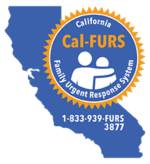 Cal-FURS is for current and former FOSTER YOUTH and their CAREGIVERS. Designed to provide immediate (24/7), trauma-informed support when they need it. Prevent placement moves. Preserve the relationship between the child or youth and their caregiver. Provide a trauma-informed alternative for families who previously resorted to calling 911 or law enforcement. Reduce hospitalizations, law enforcement contacts, and placement in out-of-home facilities. Promote healing as a family. Improve retention of current foster caregivers. Promote stability for youth in foster care, including youth in extended foster care.
OUR PROGRAMS & SERVICES...
Cal-FURS is a coordinated statewide, regional, and county-level system designed to provide collaborative and timely state-level phone-based response and county-level in-home, in-person mobile response during situations of instability, to preserve the relationship of the [foster] caregiver and the [foster] child or youth.
CALL or TEXT 805-366-4384
EMAIL info@cal-furs.org
FURS includes the following services:
A toll-free hotline available 24 hours a day, 7 days a week staffed with caring counselors trained in conflict resolution and de-escalation techniques for children and youth impacted by trauma.
County Mobile Response System and Stabilization Teams also available 24 hours a day, 7 days a week.
In-home de-escalation, stabilization, conflict resolution, and support services and resources.
Ongoing support services beyond the initial mobile response.
Hotline and mobile response staff trained in working with children and families who have experienced trauma.
FURS is a safe, judgment-free, and private space to talk about your worries and vent.
[managed by Casa Pacifica]