Our Mental Health Matters
OUTREACH CAMPAIGN
Provide a countywide campaign directed at youth, families, and those working with youth with the goal of eliminating the stigma around mental health. We want to encourage youth and adults to... [1] Make self-care a priority in their daily lives. [2] Seek help when they need it. [3] Show compassion when someone is struggling with a mental health challenge. Treat mental health challenges with the same respect and care we show someone with a physical illness or injury.
It is easy to win and you can participate as often as you want! Interact with YouthWell's social media and be entered to win a prize for two!
INSTAGRAM • FACEBOOK • TWITTER • LINKEDIN
like/comment
Like any YouthWell post or write a comment on our posts
repost
Repost any YouthWell post to your story. Remember to tag us!
tag friends
Let's promote wellness! Tag 3 friends & share the message.
Each month [JULY 2023 - JUNE 2024], winners get to pick 1 of the 3 prizes which change every month!
---
Thank you... Blenders • Birkholm's Bakery • Hook & Press • Lompoc Museum • Metropolitan Theater • Mission St Ice Cream • SB Natural History Museum • OstrichLand • PCPA Theatre • SB ZOO • Santa Ynez Historical Museum • SB Sea Center • Shop Kitchen • Southside Coffee • Tondi Gelato
If you are interested in a Practice Kindness T-Shirt [$20 each] for yourself or for your staff, please contact us. You can view a list of colors, sizes and styles >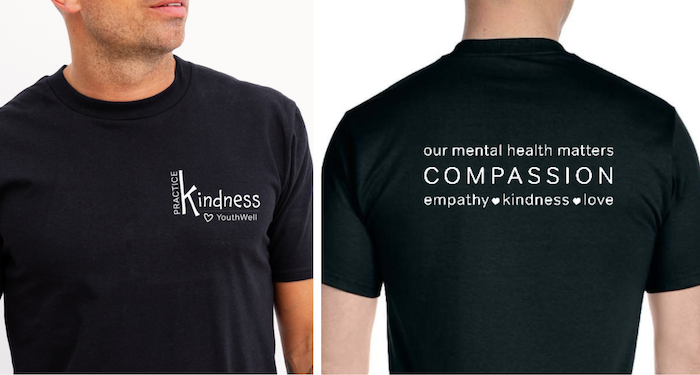 WORKING WITH SCHOOLS TO IMPROVE COMMUNICATION... Ideas for school, district, and SBCEO website for educating parents, youth, and teachers about existing programs on school campuses and in the community.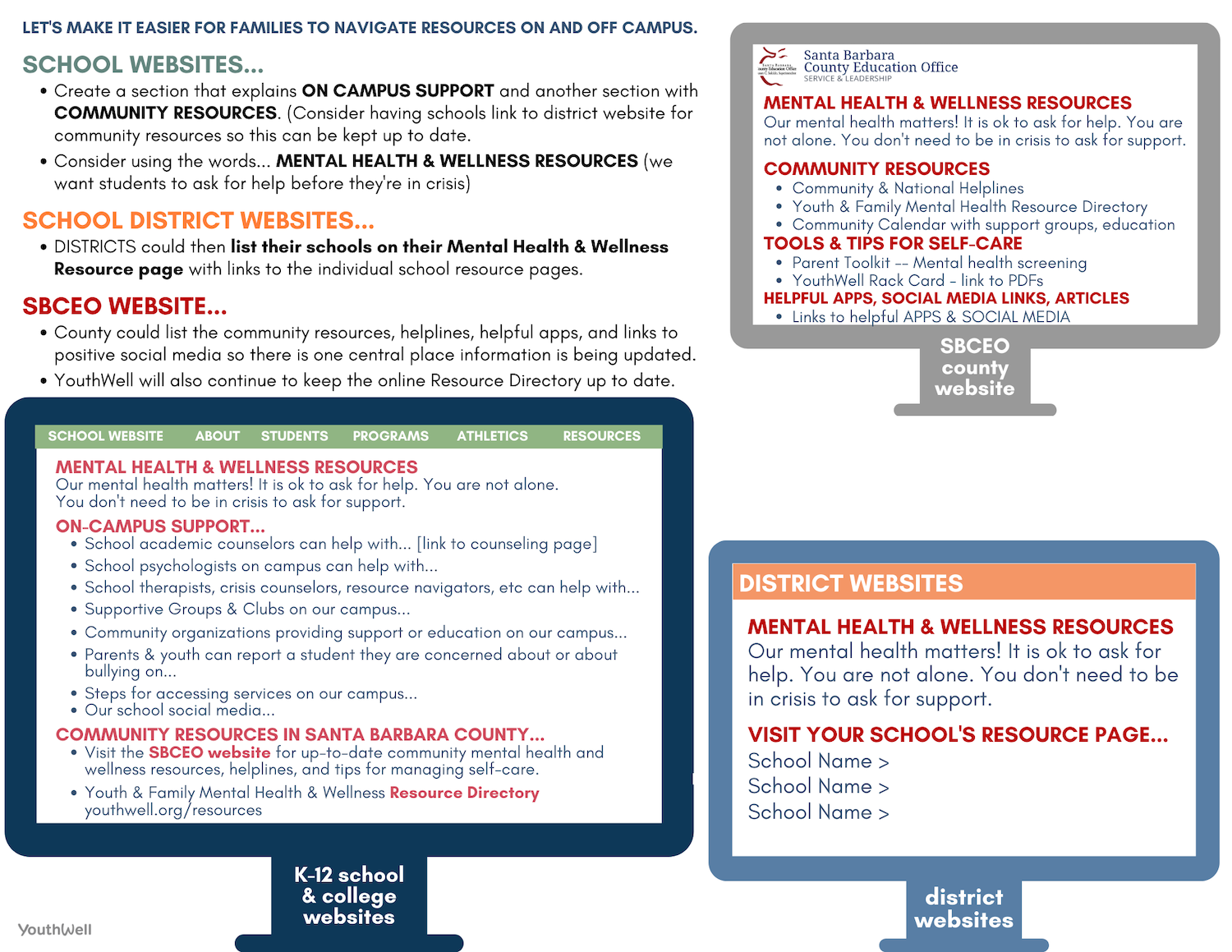 Join us in messaging out to our community and on our school campuses...
JANUARY
Stress Less - Reduce stress by developing coping skills and practicing self-care!
FEBRUARY
Healthy Relationships & Friendships
MARCH
Self-Care is important for your mental, emotional and physical well-being.
APRIL
Embrace Your Voice - Speak your truth and support others in raising their voices. Amplify authenticity!
MAY
Mental Health Matters - Mental Health Awareness Month
JUNE
JULY
AUGUST
SEPTEMBER
You Matter - Suicide awareness month
OCTOBER
Be and Upstander - Stand up for others, speak out against bullying.
NOVEMBER
Gratitude is an Attitude - When we take time to be grateful, we can rewire our brain for positivity.
DECEMBER
Be the Change you wish to see in the world. Get involved in your community and volunteer.
4x9 double-sided community rack cards in both English and Spanish with resource information and fun tools for practicing self-care. The goal is to remind everyone that OUR MENTAL HEALTH MATTERS and that IT IS OK TO ASK FOR HELP. It is scary for parents and youth when someone starts to struggle with a mental health challenge and overwhelming when you are trying to understand how to navigate resources. 
VIEW/ORDER RACK CARDS or POSTERS >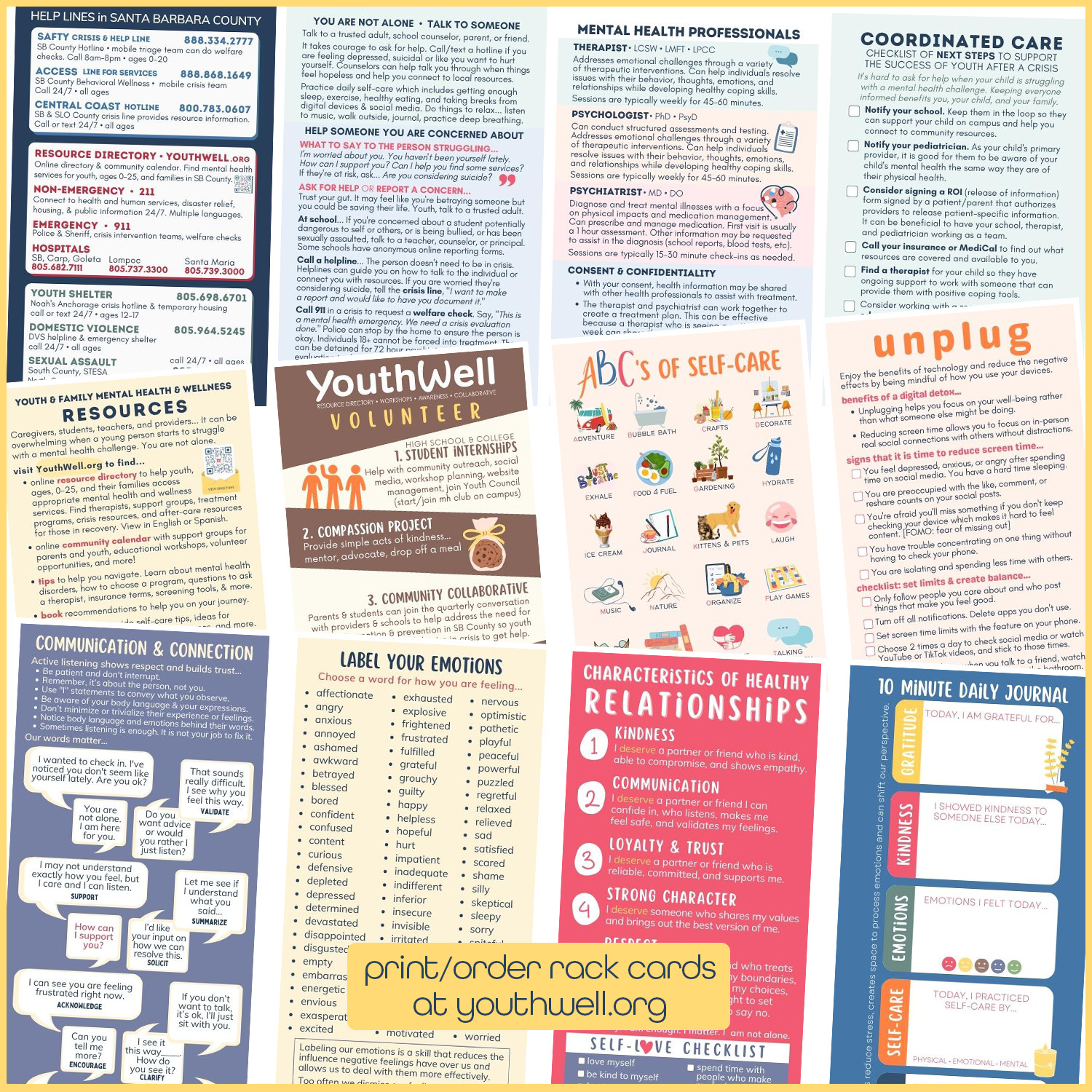 Next time you are in departures at the airport, check out the TV screens to see the ads promoting self-care.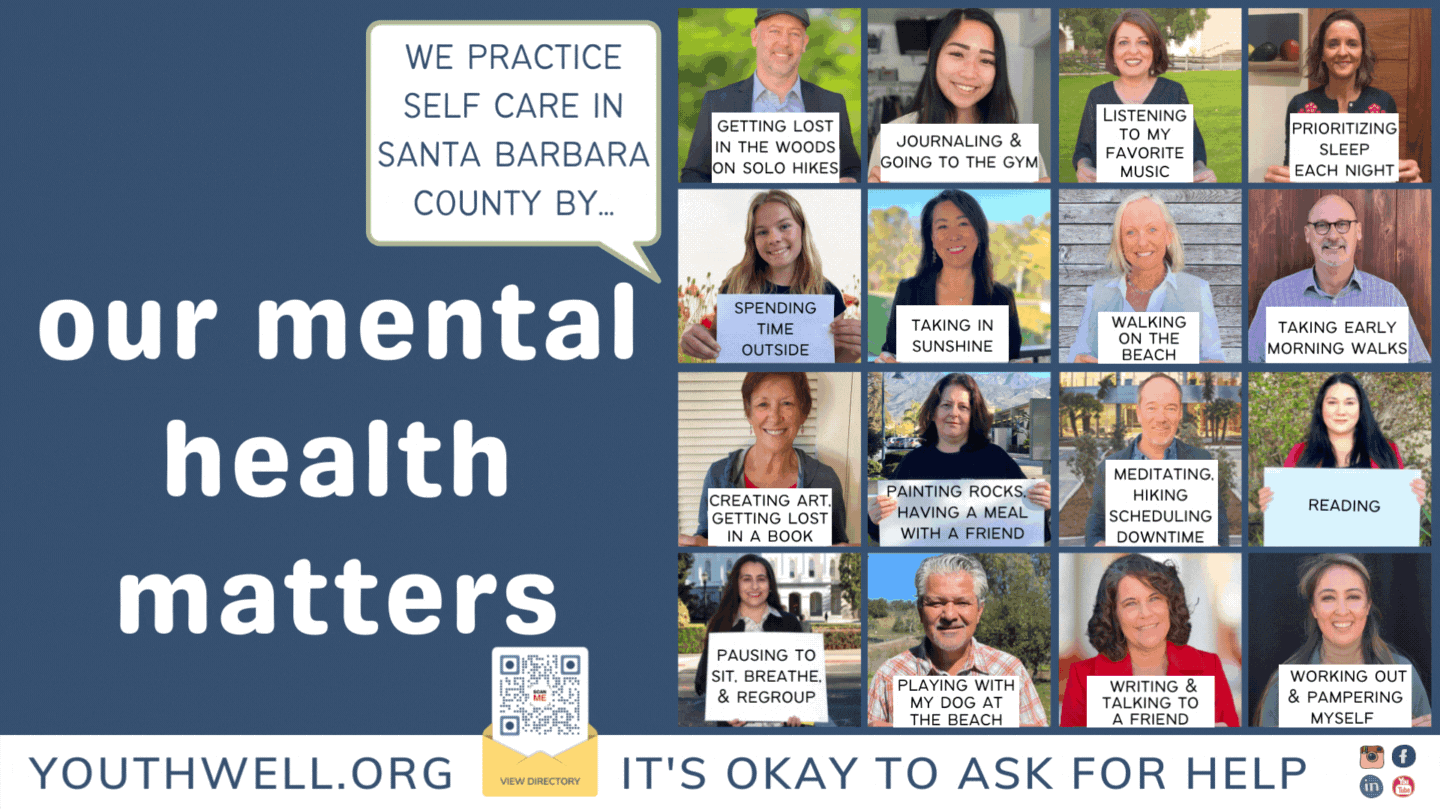 ---
When you get to the top of the escalator before you go through security...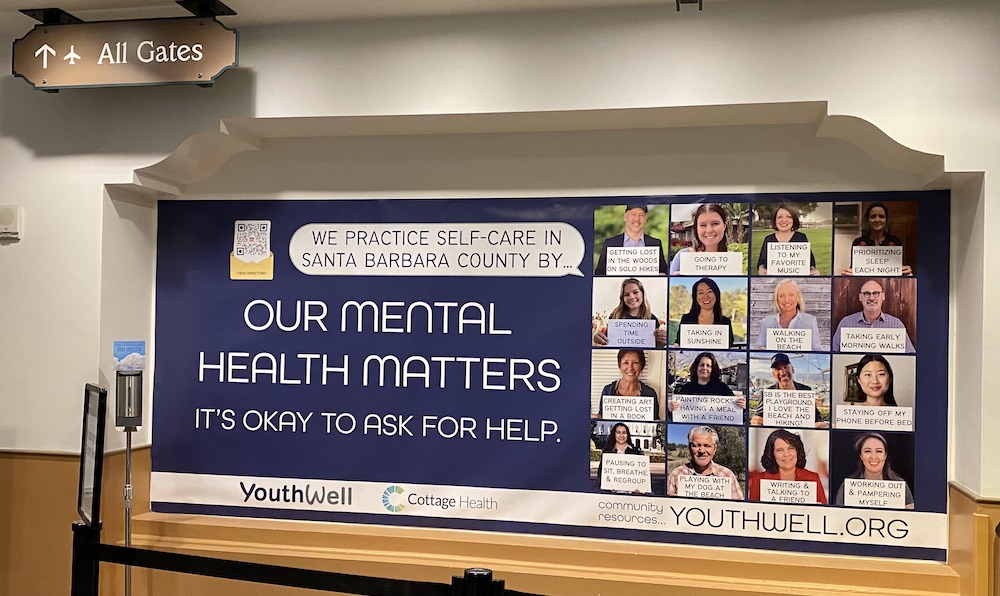 Thank you to the Santa Barbara Public Library for featuring YouthWell.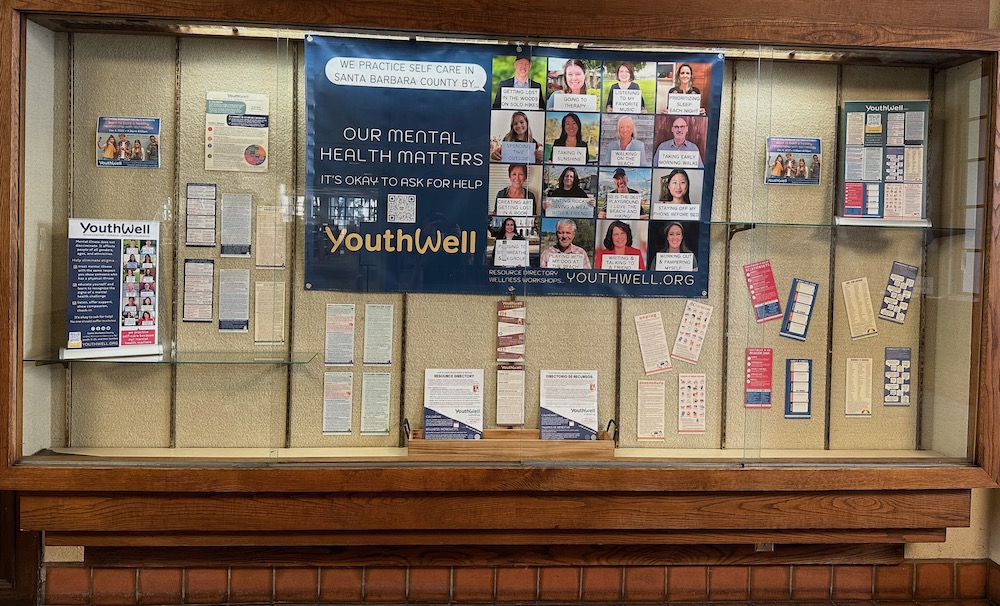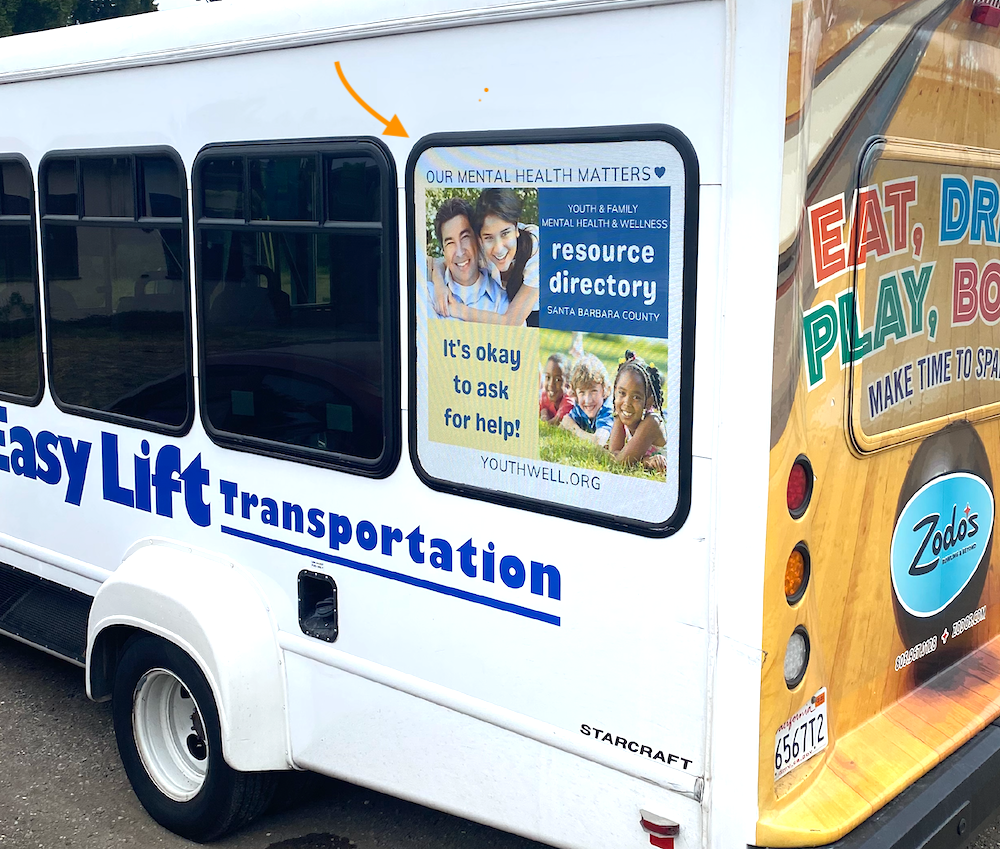 Participate in our social media campaign.
We hope you will be part of our campaign for Santa Barbara County. We want to show the many faces in our community that support the message... "OUR MENTAL HEALTH MATTERS".  Every Thurs we will post different messages around wellness on our social media and we'll include different faces from throughout SB County.
---
PARTICIPATE AS AN INDIVIDUAL
Any community members (youth and adults) are invited to participate in our campaign. Just share your photo and message that we can use in our social media posts. If you have questions, EMAIL outreach@youthwell.org
STEP 1 - FILL OUT THE FORM... It will take 5 MIN to fill out.
STEP 2 - SEND A PHOTO... You can either have someone take the photo of you OR if you have a smartphone: set self-timer and reverse camera to take the pic and email it to us at outreach@youthwell.org
INSTRUCTIONS FOR TAKING PHOTO:

Use a blank 8.5" X 11" white piece of printer paper
Take a photo from your hips up. Stand in front of a simple background or choose a background that is reflective of you. (ie: at school, work, outside, etc)
Hold up a 8.5" X 11" white piece of paper in front of you below the chin and in front of the chest.
Students under 18 years, please have your parent/caregiver print and sign a PHOTO RELEASE.
---
PARTICIPATE AS A GROUP
Non profits, businesses, schools, groups... Our hope is to get GROUP PHOTOS from some of our partners with a minimum of 5 people. We will have these coincide with national messages around mental health. We would work with you on a message from your team (SAMPLE BELOW). Contact us if you would like to participate, outreach@youthwell.org.
STEP 1 - FILL OUT THE FORM... It will take 5 MIN to fill out.
STEP 2 - SEND A PHOTO...
INSTRUCTIONS FOR TAKING PHOTO:

Use a large BLANK poster paper to hold up. (We will put your message in digitally.)
Use a simple background. You can take the photo with your iPhone.
---
USE OUR AWARENESS TEMPLATES FOR YOUR SOCIAL MEDIA.
Non profits, businesses, schools, groups, we invite you to use one of our 4 templates for your own social media posts. View & download Canva Template >>


HANG A BANNER AT YOUR SCHOOL or ORGANIZATION...
Schools (K-12), consider hanging a banner on your campus. The goal is to remind students to ask for help at any time. They don't need to be in crisis. This also gives students and staff a place to go to find resources in Santa Barbara County for ages 0-25.
Below are examples of banner styles [sizes: 2.5x4, 4x6, 2.5x6]. Schools have the option to use their school colors for the banner. We can personalize it with photos of your students, staff, or clients or use stock photos. Schools can decide whether they want to use students on campus for the photo instead of stock images. (Possibly a leadership class or students doing a club on campus around mental health?) **Another option is to do a banner focused on the importance of practicing self care.
Contact Outreach@YouthWell.org if you have questions.
View letter to schools >
Click here to REQUEST A BANNER >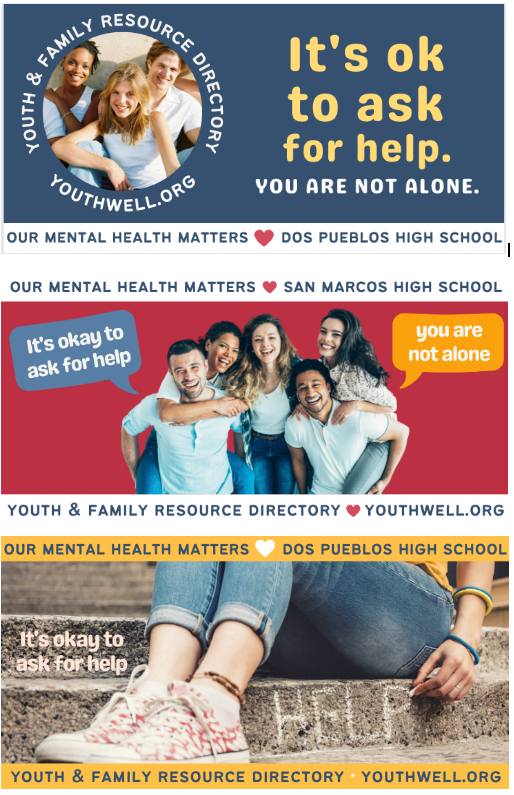 We love the opportunity to connect with parents and youth in the community. Stop by our table and pick up resource rack cards, journals, and stickers for your water bottle.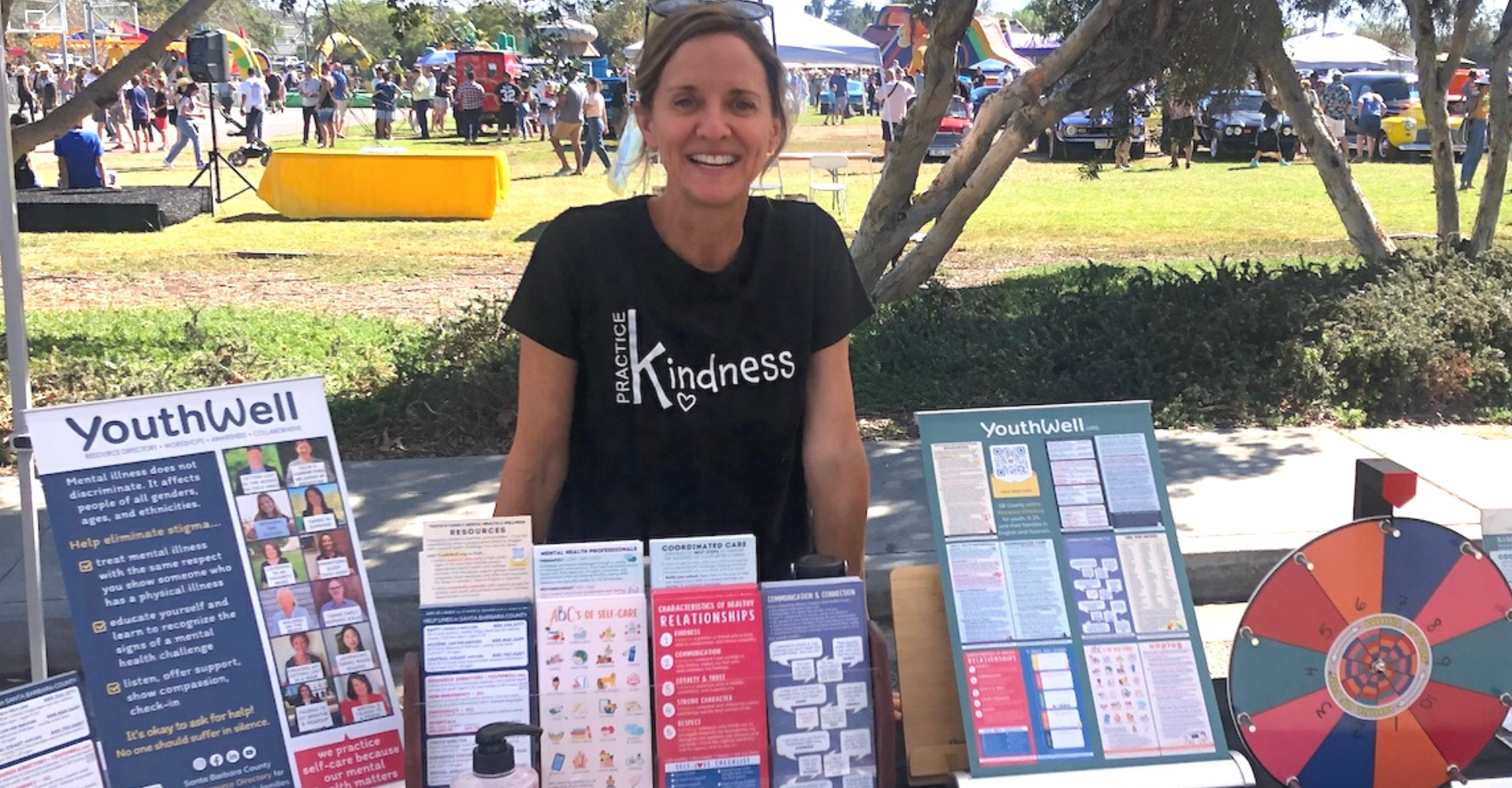 We invite organizations and schools to include this information on their websites or in their newsletters to educate families about mental health resources in Santa Barbara County.