Make a gift today
Join YouthWell in addressing the need for increased early intervention and prevention efforts in our community so that our youth don't have to wait until they are in crisis to get help. Your gift supports the Wellness Workshops and online Youth Mental Health and Wellness Resource Directory for families in Santa Barbara County. 100% of your tax-deductible donation supports youth mental health and wellness in Santa Barbara County. **WE HAVE RAISED $42,000 of our $75,000 annual goal. 2023 annual giving letter >    Contact Rachael Steidl, info@youthwell.org or 805.448.2426, with any questions.  
YouthWell is honored to be a fiscally sponsored project of Community Partners, 501(c)3 nonprofit organization, Tax ID# 95-4302067.
Make check PAYABLE TO:


Community Partners for YouthWell


**Please designate on the memo line: YouthWell
-

Please MAIL check to

[If mailing via USPS]:
Community Partners,
P. O. Box 741265,
Los Angeles, CA 90074-1265
-OR-


If mailing via a delivery service (UPS, FedEx, DHL):




Bank of America Lockbox Services, Lockbox #741265, 2706 Media Center Drive, Los Angeles, CA 90065-1733]
youthwell in action
Vision: Increase youth mental health prevention and early intervention efforts. Work towards systemic change that encourages collaboration so that we can fill the gaps and remove barriers to services for all youth and their families so that they can access the care they need in a timely manner through a warm handoff.
Mission: Prioritize prevention, and early intervention (PEI). Eliminate stigma through education and provide tools and tips for managing mental wellness and practicing self-care in order to build resilience. Simplify access and connect youth through age 25 and their families to mental health resources before the crisis.
Projects: Wellness Workshops, Resource Directory, Community Calendar, Resource Rack Cards, Our Mental Health Matters Campaign, Convene Collaborative & BHLT, and partner on multiple grants.
---
Learn more about our work in the community.
2022-23 Slide Presentation >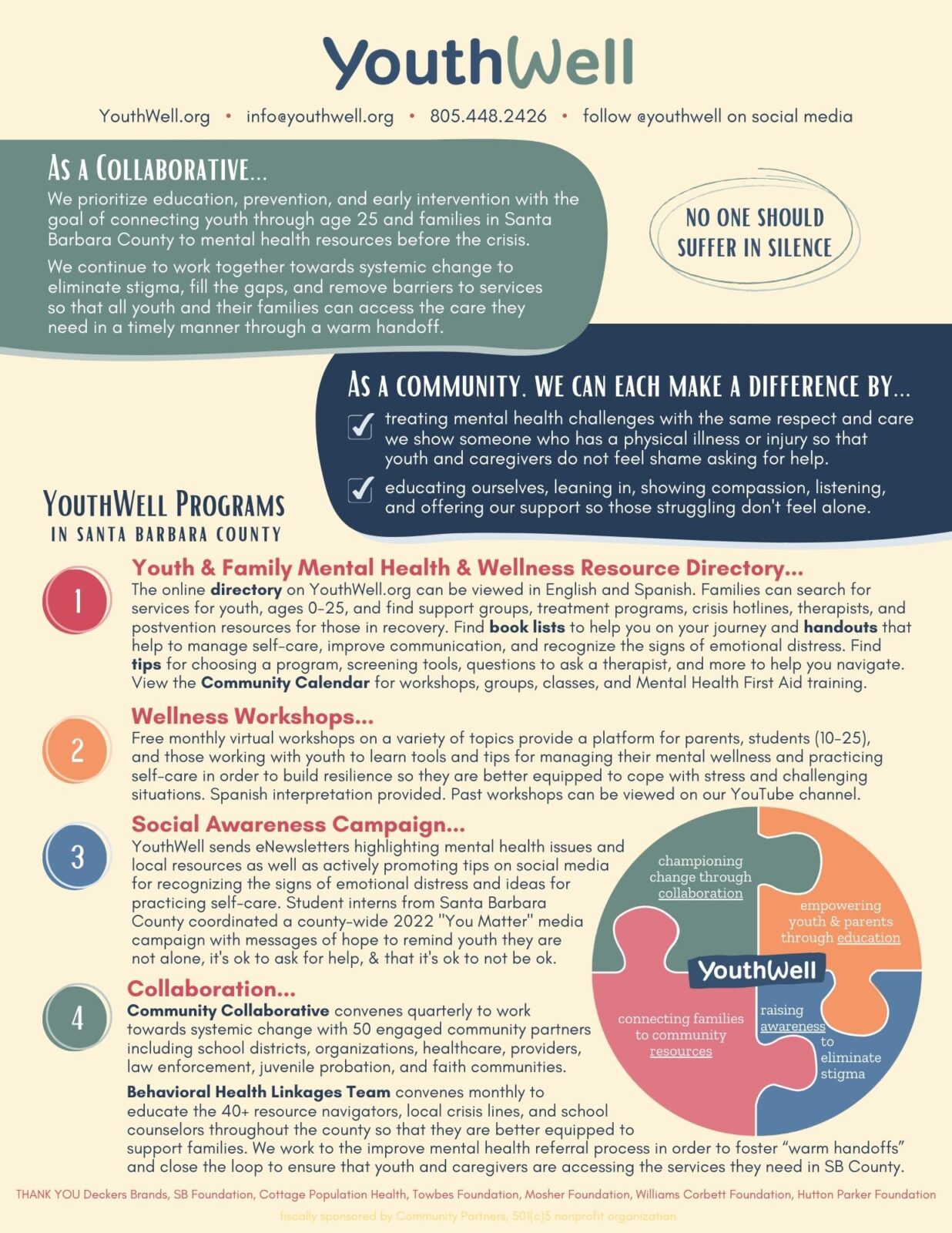 thank you for your support...